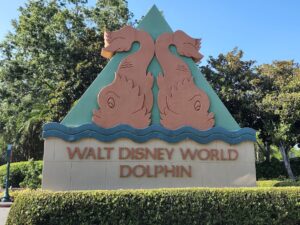 This summer, we visited Walt Disney World during our Family Vacation and stayed at the Disney World Dolphin Hotel.  The Dolphin is a part of the Marriott because it is a Sheraton-branded hotel. So, while not an actual Disney Resort, guests still reap the benefits of staying on property with Disney, such as 30-minute Early Entry to the Park, Disney Transportation, and Extended Evening Hours on select nights. Keep reading for our full Disney World Dolphin Hotel Review.
Disney World Dolphin Hotel Location
The Dolphin Hotel is considered a Boardwalk hotel, where hotels such as Disney's Boardwalk Inn and Disney's Yacht Club Resort, and Disney's Beach Club Resort are located. This puts the hotel pretty much right between Hollywood Studios and Epcot. Both of these parks are technically within walking distance, but in the Florida heat, the Water Taxi transportation is much nicer (especially when heading to Hollywood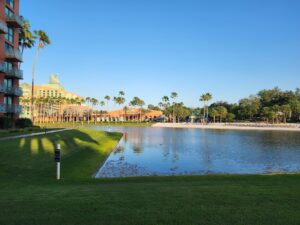 Studios as it is a bit further than Epcot).  This hotel is also a sister property to The Disney World Swan Hotel (a Westin Hotel under the Marriott brand), and the Swan Reserve (an Autograph Collection hotel under the Marriott brand). All three of these properties can benefit from sharing up to four different pools and hot tubs, multiple restaurants, and the spa which is located within the Dolphin Hotel.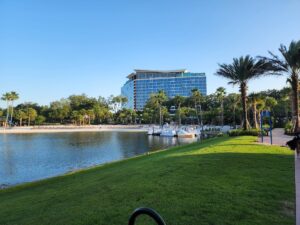 Disney World Dolphin Hotel Parking Situation
Even though this is a Marriott property, you still have to pay resort fees and parking fees which range from $35 a night to $39 a night for self-parking or valet. The parking lot had tons of spaces and the whole time we were there; it was easy to access from parking to the hotel lobby. The lot is gated and has security, so you must have a Dining Reservation or be staying at the hotel to get in. Also, if you are staying at any of these three properties, you get free parking at each of the parks, so that is an added benefit to paying the nightly parking fee.  When heading to the parks, simply show your room key and they will let you into the parking lots.
Disney World Dolphin Hotel Lobby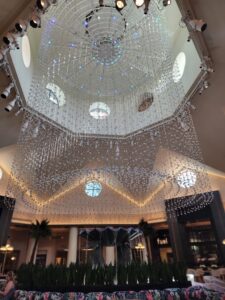 The hotel lobby at the Dolphin Hotel is beautiful. When you walk in, you are immediately met with a long entryway to the actual lobby offering tons of comfortable seating everywhere. There are many places in the lobby for people to hang out both day and night. There is a really fun Bar in the lobby called Phins, where they serve their own beer called Phins and Feathers. They also serve this really cool drink called Smoke N' Roses, which offers a great drink with a fun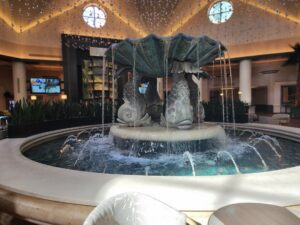 presentation. When you order this drink, you get a glass box, served with burning wood to give off the smoke taste and smell, with an Old-Fashioned cocktail inside. The cocktail takes on part of the smoke flavor and was delicious. The lobby also is home to the front check-in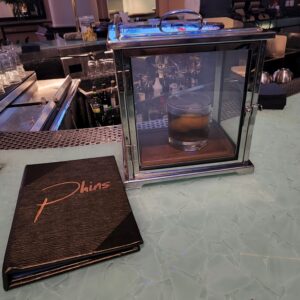 desk, bell services, and the Mandara Spa. Technically the lobby is on the second floor, but it is accessible from the parking lot and luggage drop-off. The lobby also has two different types of gift shops and a quick service/coffee area called Fuel.
Disney World Dolphin Hotel Rooms (We Were in a Preferred View Room)
We stayed in a preferred view double-bed room with a preferred view. Our view was awesome. We were in room 5118 which overlooked the back of the hotel which is really like the front. It's the part that guests see when they are walking back from the parks or the Boardwalk. At night, it is absolutely beautiful, with gorgeous colorful lighting and sidewalks that are lined with palm trees. Our view included a look at the iconic fountain, and you could actually see the Spaceship Earth which is in Epcot. We got a surprise one evening with late fireworks that we could see from Epcot as well.  The park had been closed for a couple of hours, so we can only assume that they were testing as these fireworks were going off for about 30-minutes starting right around midnight.
Disney World Dolphin Hotel – Full Room Tour in 4K

When you walk into the room, you are met with the closet and a coffee bar on the immediate left, and the bathroom on the immediate right. The beds were really comfortable, but they are only full-size beds and not queens like you would find at The Swan Hotel. When you sleep on a King-sized bed at home, it's quite the adjustment. However, they were very comfortable with nice linens. The standard dresser and TV were accessible, but the room did come with a very nice, oversized chair and a separate desk and chair. We were able to utilize our laptops or eat at the desk with plenty of room.

One thing that stood out at this hotel was the service. Every single person was extremely friendly and met us with the best service. Every day our room was taken care of with fresh towels and toiletries if needed and they also provide you with as many bottles of Dasani as you need (included in the daily resort fee). Disney properties actually have limited their housekeeping, so having this done every single day was wonderful.  One thing that we did notice was the lack of plugs and USB ports.  While there are a few, they were finicky and didn't hold the plugs very well.  Check out our list of top items that you need to pack for your next trip to Walt Disney World.
Disney World Dolphin Hotel Dining Options
The Dolphin Hotel has fine dining, signature restaurants, quick service, grab-and-go, and pool bar/quick service food. Some of the restaurants to notate are Todd English's Bluezoo and Shula's Steakhouse. Both of these restaurants are highly rated and require reservations. Since we had busy park days, we didn't get a chance to eat at either of these restaurants but did take advantage of Fuel, which is the hotel's grab-and-go food and coffee eatery. We took advantage of pastries or breakfast sandwiches each morning, with iced coffees, cokes, juices, and waters in the coolers. They also have a self-serve frozen yogurt station, beer, and wine, and a pay-by-the-ounce candy bar with some cool artwork to look at while shopping.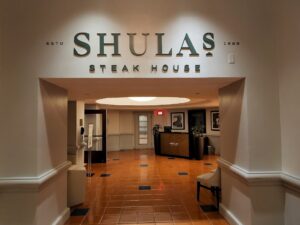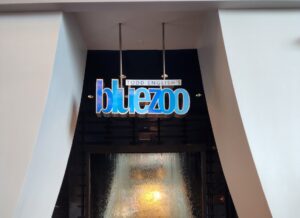 Disney World Dolphin Hotel Pools
The three hotels that make up The Swan and Dolphin properties each have their own pool, but they also all share the Grotto Pool. This amazing pool is gigantic and has a fun water slide as well. There are plenty of beach chairs, towels, and even a few hot tubs. The pools are surrounded by nice green spaces, a sand beach area, and a pond. In the pond, you are able to rent out paddle boats that are shaped like swans. The whole property was really nicely maintained and very appealing to take in.
Final Thoughts – Disney World Dolphin Hotel Review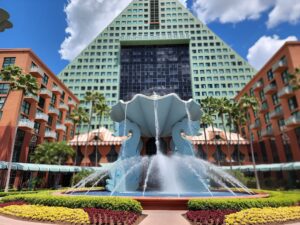 Overall, we enjoyed our stay at The Dolphin hotel. We benefitted from staying at a Disney good neighbor hotel, with the best of all of the Disney perks, but paid Marriott prices. This resort gets classified the same as all of the Deluxe Resorts on Disney property, so benefits like early morning entry and extended evening hours are included. The hotel is older and is not spectacular to look at in the daytime (very 80s Miami Vice vibe with the peach and green), but the service was amazing, rooms were comfy, food was great and convenient, and the location was about as good as it gets!
Have you ever stayed at the Disney World Dolphin Hotel? This was our first time, and while we loved it, I think that the next time we stay in a good neighbor hotel, we will check out the Swan Reserve which is right across the street from the Swan and Dolphin hotels.  Let us know your thoughts on this or any other good neighbor hotels you have stayed at when visiting Walt Disney World.
Did you know that we have an amazing community of Disney World Fanatics hanging out on our Facebook Page? If you want to join us and thousands of other Disney World Enthusiasts to get all of your Disney Vacation questions answered, check out our Facebook Group Disney World Questions and Answers.