When will Bibbidi Bobbidi Boutique Reopen in 2022?
After a two-and-a-half-year hiatus, many guests are still wondering when will Bibbidi Bobbidi Boutique reopen in 2022?
Disney has finally announced that on Thursday, August 25th, 2022, Bibbidi Bobbidi Boutique will finally reopen to guests at Disney's Magic Kingdom.  According to the Disney website:
"Bibbidi Bobbidi Boutique at Magic Kingdom park will reopen August 25, 2022. You can book online beginning in early August; check back later for more details. The locations at Disney Springs and Disney's Grand Floridian Resort & Spa remain closed at this time."
While they will only be opening the Magic Kingdom location at this time, we can only assume that in the next few months as Disney continues to ramp up staffing and hiring, they will have enough Fairy Godmother Apprentices to get the other locations open as well.
What is Bibbidi Bobbidi Boutique?
If you are not aware of the Bibbidi Bobbidi Boutique, Disney explains it as a place where Fairy Tales Come True for any and all kids between the ages of 3 and 12.  When you book your time with the Fairy Godmother Apprentices, they will bring your child in, primp and pamper them until they look Storybook Stunning. Depending on the package selected, your child will then have the option to choose their hairstyle, makeup, nails, accessories, and even different costumes.
Our Experience With Bibbidi Bobbidi Boutique
We have visited Bibbidi Bobbidi Boutique in the past, and our daughter really enjoyed the entire experience.  While she was never really into princesses, makeup, and hair type experiences, when she went in, her whole attitude changed.  She loved all the attention, having someone do her hair and nails, and then finishing it all off with a Royal Princess Dress.  What is even more exciting for the kids is when they visit any Disney parks or restaurants, cast members and other guests all treat them like royalty which my daughter loved.
Bibbidi Bobbidi Boutique Packages and Pricing for 2022
While packages and prices can change, as of right now, your options are as follows:
The Carriage Package – Starting at $99.95 Plus Tax
The Castle Package – Starting at $199.95 Plus Tax
The Deluxe Castle Package – Starting at $229.95 Plus Tax
The Knight Package – Starting at $19.95 Plus Tax
The Deluxe Knight Package – Starting at $79.95 Plus Tax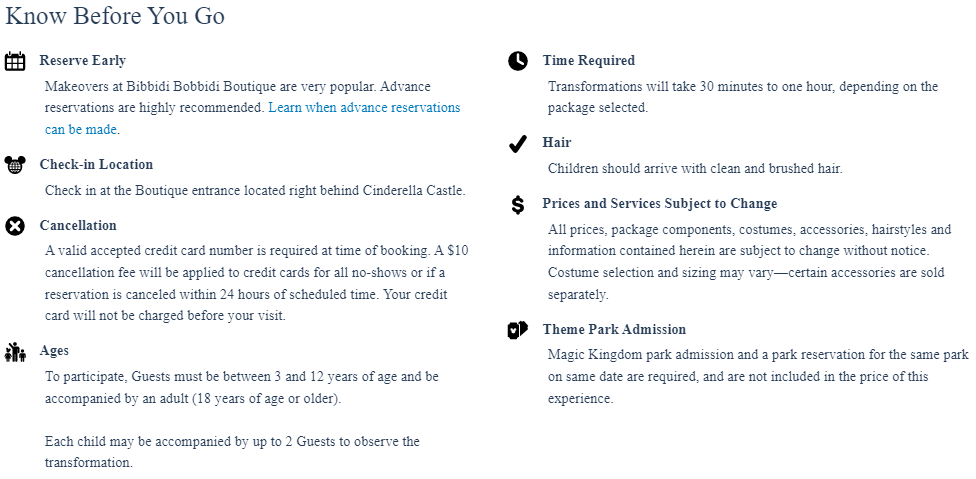 Are you excited to see that Bibbidi Bobbidi Boutique is reopening at Magic Kingdom?  Will you be booking a package for your little prince or princess?  In your opinion, is Bibbidi Bobbidi Boutique worth the cost?  Let us know your thoughts in the comments below!
Did you know that we have an amazing community of Disney World Fanatics hanging out on our Facebook Page? Also, if you want to join us and thousands of other Disney World Enthusiasts to get all of your Disney Vacation questions answered, check out our Facebook Group Disney World Questions and Answers.