With Epcot's International Food and Wine Festival starting up on July 14th, we now know who all will be performing at the America Gardens Theatre stage as 2022 Eat to the Beat Concert Series Lineups have been released!  In my opinion, there is nothing better than rewarding yourself with an awesome concert after walking and eating your way around World Showcase all day!
While there are some familiar international and local artists from years past included in the 2022 Eat to the Beats Concert Series Line-up, there are also some groups that we haven't seen before – like Hoobastank!  Of course, everyone's favorite (Boyz II Men) will be making their appearance on November 4th through the 7th.
2022 Eat to the Beat Concert Series Line-Up
Here is the lineup that has been provided by Disney Parks Blog:
Get a taste of the announced artists below and keep checking back at TasteEPCOT.com as more acts are revealed.

July 14-15 – Baha Men
July 16-18 – Big Bad Voodoo Daddy
July 29-30 – Taylor Dayne
July 31-Aug. 1 – Tiffany
Aug. 5-8 – Joey Fatone & Friends
Aug. 12-13 – The Devon Allman Project
Aug. 14-15 – Christopher Cross
Aug. 19-20 – Journey former Lead Vocalist Steve Augeri
Aug. 21-22 – Air Supply
Sept. 2-3 – Southern Avenue
Sept. 4-5 – Kris Allen & David Cook
Sept. 9-10 – Hoobastank (NEW)
Sept. 16-17 – Los Amigos Invisibles (NEW)
Sept. 23-24 – BBMak
Sept. 30-Oct. 1 – Stokley (NEW)
Oct. 2-3 – Sheila E.
Oct. 7-8 – Mark Wills
Oct. 9-10 – 38 Special
Oct. 23-24 – Billy Ocean
Oct. 28-31 – Hanson
Nov. 4-7 – Boyz II Men

Beginning May 24, you can secure your spot at the show by reserving an Eat to the Beat Dining Package available Friday-Monday. Find out more by visiting TasteEPCOT.com. 
Everything You Need to Know
If you see an artist that you would like to watch, you need to make sure that you have valid admission and a park reservation for EPCOT on the same date for the concerts that you would like to attend.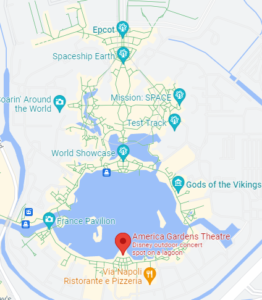 While you may be able to watch the concert from afar on the dates that you want to attend, we highly recommend reserving an Eat to the Beat Dining Package at one of the participating Epcot restaurant locations to guarantee yourself better seats.  As you can see in the video above, when we went, it was a last-minute decision, so while we were able to view the concert, we did it from the standing room only on the far right-hand side of the stage.
Performances will be taking place nightly during the festival from July 14 to November 14, 2022.  Artists will be performing 3 shows each night with start times of 5:30 PM, 6:45 PM, and 8:00 PM.  As mentioned above, all concerts will take place at the America Gardens Theatre at EPCOT.
In Conclusion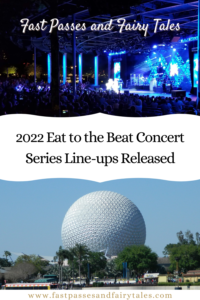 Do you see any bands that you must see?  Let us know in the comments below if you plan on being in attendance for the "2022 Eat to the Beat Concert Series."  I know that I am personally interested in seeing Hoobastank.  Being that they are playing a week before my birthday, we might have to make a little pre-birthday trip to Epcot.  That said, Boyz II Men
(Kalynda's favorite) will be playing on her actual birthday, so if we take a fall trip, it will more than likely be in November as opposed to September, but who knows, maybe we make quick trips for both!
Did you know that we have an amazing community of Disney World Fanatics hanging out on our Facebook Page? Also, if you want to join us and thousands of other Disney World Enthusiasts to get all of your Disney Vacation questions answered, check out our Facebook Group Disney World Questions and Answers.