We've been married for fifteen years and have two beautiful daughters (12 and 6) and we… do… Disney.
We first went to Disney World in 2013 when our oldest daughter was only 3 and we were hooked. We've stayed at many different hotels, eaten at many different restaurants, and we have ridden every ride that Disney has to offer.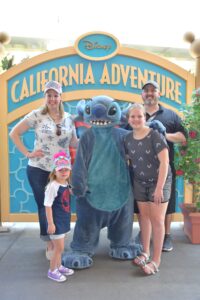 We created Fast Passes and Fairy Tales because we love to share our passion for Disney with others. Our main goal is to make sure that the families and friends that visit our page leave knowing everything that there is to know when planning a Disney Vacation. When friends or family start to plan their Disney vacations, we always share our tips and trips, so this site is a way for us to put everything that we know about Disney all in one place!
Follow Fast Passes and Fairy Tales to Make Your Disney Vacations More Magical!
We decided to call ourselves Fast Passes to Fairytales because we are all about the magic that Disney brings to the total park experience. You become enchanted by the thrill of riding the best ride in the park (with little to no wait) and meeting a Disney character or Princess and watching the magic that happens between that interaction.
We encourage questions and look forward to sharing our experiences with you!
Let's have a magical time together!
Links to Some of Our Most Popular Posts: