Harmony Barber Shop Set to Reopen!
Did you know that there is an actual barber shop located on Main Street, U.S.A. in Disney's Magic Kingdom?  While this barbershop has been closed since the park closures in 2020, we are happy to report that this summer, Harmony Barber Shop is set to reopen!  Once Harmony Barber Shop opens, Main Street, U.S.A. will be back to 100% of what it was before the closures!
Harmony Barber Shop Set to Reopen on July 31st
Disney has stated that Harmony Barber Shop will fully reopen for the world's most magical haircuts on July 31st.  It should also be noted that according to Disney World, Starting June 28, 2022, a limited number of reservations for this timeless barber shop experience will be bookable online and via the My Disney Experience app.
Barber Services at Harmony Barber Shop
When visiting Harmony Barber Shop, you will have three options for booking.  You can choose from your Child's Haircut, My First Haircut, and the Adult Haircut. While we don't have prices yet, you can imagine that the prices will be a bit higher than you are used to at your local barber shop, but cmon, do you really want to worry about pricing when you are getting the most magical haircut on earth?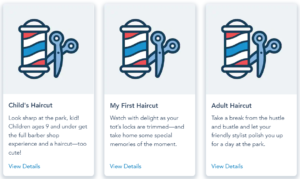 Our Visit to Harmony Barber Shop
We took our oldest daughter to Disney World when she was 3 years old back in 2013.  We tried very hard to book a visit to the Bibbidi Bobbidi Boutique (which Disney stated will be opening later this year as well), but after months of trying, we were unsuccessful.  When we arrived at the Magic Kingdom, we soon realized that they had the Harmony Barber Shop on Main Street and booked a visit for later in the day.  While our daughter wasn't feeling great, she thoroughly enjoyed the magical experience (kinda hard to tell in the pictures, but I promise that she loved it)!
In addition to the cute haircut, they also put her hair up and she was treated with a little bit of pixie dust!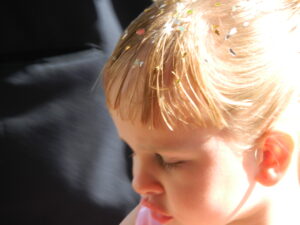 Book Your Visit Now for Harmony Barber Shop
If you are going to be visiting the Magic Kingdom and you are wanting to take advantage of what the Harmony Barber Shop has to offer, be sure and book your service 60-days in advance.  Because of the fact that the Bibbidi Bobbidi Boutique will not be open when Harmony opens, we believe that the spots will fill up fast.
Have you or your kids ever had a haircut at Harmony Barber Shop?  Now that Harmony Barber Shop is set to reopen, will you be looking to book a visit on your next trip?  Let us know your thoughts in the comments below!
Check out our community of Disney World Fanatics hanging out on our Facebook Page. If you want to join us and thousands of other Disney World Enthusiasts to get all of your Disney Vacation questions answered, check out our Facebook Group – Disney World Questions and Answers.