We just got back from an amazing two-week Florida vacation and want to tell you all about it. Of the main points of our vacation, I'll be writing a separate and more detailed post about it. However, this is a high-level summary of everything we did.
Why a Two Week Florida Vacation?
First, as far as making it to Florida we opted to drive. My husband had a two-day work conference in Fort Myers, Florida, so we opted to take our time and enjoy the journey. We love road trips and felt this was the best option for us. We honestly had no desire to fly and even with the crazy gas prices and hotels, driving was a much better option for us.
Getting on the Road
So, we planned and packed ahead of time for our two-week vacation and ended up leaving around 6:30 am on Saturday, June 4th. We stopped a few miles outside of where we live at our local Buc-ee's and got prepared for our road trip with breakfast tacos and iced coffee.
We knew we were taking our time and planned out a stop in Daphne/Spanish Fort Alabama, which would take around 9 hours from our departure. We drove every few hours and then made some stops for restroom breaks and to stretch our legs.
One major tip for traveling on road trips is to actually plan to stop at the state-managed rest stops (especially in Florida) instead of gas stations or fast-food places for restrooms. The larger rest stops have staff on-site all day long to tend to restroom cleanliness and trash take-out. We didn't find but only one rest stop that wasn't in tip-top shape. I was pleasantly surprised at how clean they all were, and most had touchless soap and water dispensers. A lot of them had hand dryers, but we did use some paper towels that I had brought for various things instead of the dryers. There are trashcans in the parking lot, so after walking out of the bathroom with wet hands, just used the paper towels and walked 5 feet to the nearest trash can.
We brought an ice chest and made sandwiches ahead of time. This was to prevent a 30-45 min stop at any lunch establishment. We packed a few turkey and cheese and a few PB & J per person. We also filled up the ice chest with cokes and bottled water. We also had a snack bag full of chips, granola bars, goldfish, and other similar snacks to have as sides or snacks after lunch.
We ended up taking I-20 from Texas, through the top half of Louisiana into Mississippi. Once we reached Jackson, Mississippi, we proceeded south towards the Mobile/Gulf Shores area of Alabama. Our hotel was located about 45 min on the other side of Mobile in the Daphne/Spanish Fort area of Alabama, along I-10. We stayed at a Home 2 by Hilton hotel.
Home2 by Hilton Daphne/Spanish Fort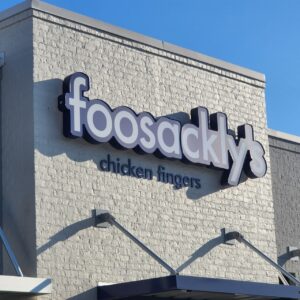 The Home2 by Hilton Daphne/Spanish Fort was good enough for a one-night stay where all we needed was a bed and a shower. We packed a one-night bag that we brought in, good enough for a change of clothes and toiletries. After checking in and moving our luggage inside the hotel, we drove across the street to eat at a fast-food restaurant called "Foosackly's." It was really good food at good prices and had some of the friendliest staff members you could ever meet. It was all things chicken fingers with house-made sauces!
On the Road Again!
The next morning, Sunday, June 5th, we got out of our hotel around 6:00 am and started down I-10 towards Florida. The actual state line was less than an hour from where we were staying the night before. We stopped at the official Florida Welcome Center where we got some cool pictures of the Welcome to Florida sign and the Blue Angels Fighter Jets. We were there too early to go inside, so we missed the fresh orange juice samples, but it was still cool.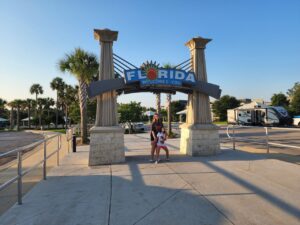 We had another 9 hours ahead of us on this day, so we leveraged the same approach we did on Saturday. We had extra sandwiches and chips, as well as a cooler fool of drinks. We ended up finding a Buc-ee's just before the state line in Florida, so we made a quick stop for ice and some more breakfast tacos and iced coffee.
This Sunday drive seemed like it was too much longer than Saturday's, mainly because we ended up on I-75 South in Florida, right out of Lake City for like 6 hours. We traveled far down the coast to Fort Myers, which is about 2.5 hours south of the Tampa area.
Homewood Suites by Hilton Fort Myers Airport/FGCU
We finally made it to our hotel in Fort Myers, near the Fort Myers Airport and the Florida Gulf Coast University area. We stayed at a Homewood Suites by Hilton, as my husband's conference was at the Holiday Inn about 300 yards away.
We absolutely loved this hotel. They provided complimentary breakfast every morning, as well as complimentary snacks on Wednesday evening. We were staying there Sunday evening through Friday morning, so this worked out great.
Sanibel Island and Fort Myers Beach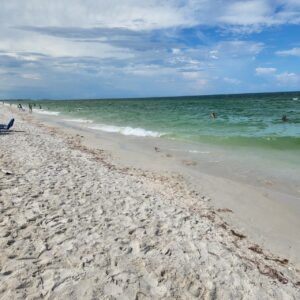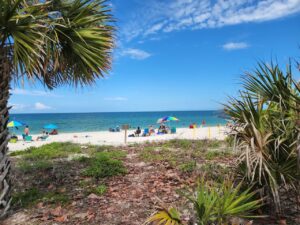 My husband's conference was on Wednesday and Thursday of this week, so on Monday and Tuesday, we planned to hang around town and visit a few beaches. On Monday, we visited Sanibel Island and found some awesome seashells and on Tuesday we went just south of Fort Myers Beach to Bonita Beach Park and enjoyed the white sand and clear blue waters of the Florida Gulf Coast. On Wednesday and Thursday, while my husband was at his conference, I worked remotely from the hotel room, and then Friday was our day to leave.
The pool was a huge hit while we were there, as my kids swam almost every day – or multiple times per day- and there was hardly anyone ever there. The most amount of people was one family, in addition to ours, while we were there.
Universal Studios Orlando Vacation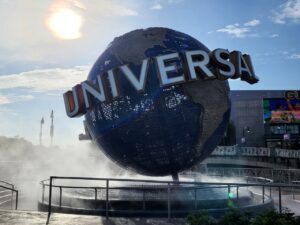 Friday was the big day – the fun start to the second half of our vacation. Our plans were to visit Universal Studios on Friday, Saturday, and Sunday. Then we would travel from our Universal hotel to our Disney hotel where we would stay from Monday through the following Saturday.
We made it out of our hotel in Fort Myers around 7:30 am and drove the three hours to Orlando. We stayed at the Hard Rock Hotel on Universal Property, and it was divine! This hotel was the most luxurious of all of our hotel stays during our two-week vacation. More to come on this post in a separate, very detailed post.
Hard Rock Hotel Orlando
We arrived around 10:30 am on Friday morning and checked in to our hotel. Our room wasn't ready, but we were able to leave all our luggage with a porter and immediately received our room keys which would also be our express pass tickets for the parks. This allowed us to skip the regular line on all attractions, except two, which was a huge perk being there on a weekend in the summer.
First Day at Universal Studios Orlando
We prepared our park backpack and Brita Water bottles to take with us, applied sunscreen, and headed off on our 6 min walk to the park— yes, you heard that right. It was a light 6-minute walk from the back of our hotel to the front of Universal Studios. This is a major reason that I'd recommend staying at this Premier Universal Studios property.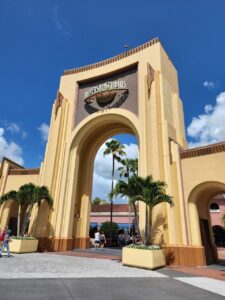 Once in the parks, we opted to go to Universal Studios since we were making it around 11-11:30 am. We would do Islands of Adventure the next day. We had park-to-park tickets, which allowed us to navigate between both parks as often as we wanted. However, we wanted to dedicate Friday to Universal, Saturday to Islands of Adventures, and Sunday to both parks for anything that we could not finish.
At Universal Studios, this park is dedicated to more movie and TV show-type rides and attractions, such as E.T, Transformers, Minions Mayhem, Fast and the Furious, the Simpsons, and Men in Black. We immediately went into a gift shop and bought lanyards for our Hotel Room Keys/Express Passes. This way, you won't lose them, and you can quickly show them to cast members for easy access.
We ended up staying until around 6 pm or so in the parks, as we were texted about 4 pm that our room was ready. We were able to ride almost every single attraction in this park from the 11:30-6:00 pm time frame, based on our express pass. We still had all our luggage to get to our room and were definitely hungry for dinner. Since we needed to also bring up some last-minute things from our vehicle, we opted to eat off the property.
We drove a few miles away to eat at Portillo's, which is a fast-food restaurant serving famous Chili Dogs, burgers, and chicken sandwiches, based out of Chicago. They are also known for their famous Chocolate Cake Shakes, which were heaven in a cup!
After a much-needed break and dinner, we headed back to our hotel, parked, and checked in with bell services in the lobby. They were able to immediately bring up all our luggage to our room, which we unpacked and got ready for a good night's sleep.
Rope Dropping at Islands of Adventure for Hagrid's Magical Creatures Motorbike Adventure
The reason for going to bed at a decent hour, outside of being exhausted, was because we needed to rope drop Islands of Adventure on Saturday morning. Hotel guests can get into the park 1 hour ahead of regular day ticket guests. You want to make this a priority because two of the newest and most amazing attractions at Islands of Adventure do not qualify for the Express Pass. By getting to the park ahead of all-day ticket guests, you ensure yourself a much shorter wait for these two attractions.
The two attractions are Velocicoaster and Hagrid's Magical Creatures Motorbike Adventure. Since my 6-year-old is not tall enough for Velocicoaster, we opted to get in line for Hagrid's. Now, my 6-year-old is a bear in the morning, we tried and fought like hell, but couldn't make it right at 8 am. We made it into the park around 8:20 am. In that 20-minute time frame, the line queue for Hagrid's posted a 150-minute wait, because everyone runs to that attraction first. We struggled with waiting that long for our very first ride, but thought "It's 8:20 am in the morning, and what if we couldn't get on this ride any other time?" We opted to get in line. We ended up waiting 120 minutes exactly for this attraction. No surprise- totally worth every second. More tips about this attraction coming in the next detailed post.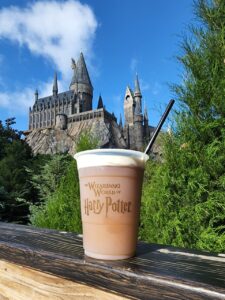 The Wizarding World of Harry Potter
After Hagrid's, we made our way into the Wizarding World of Harry Potter. My 6-year-old is a huge fan, so we of course did everything, Harry Potter, that we could.
Mythos – The World's Best Theme Park Restaurant
We rode as many rides as we could, and experienced the Wizarding World up until around 12:50 pm, as we had a lunch reservation at Mythos Restaurant at 1 pm. We checked in for our reservation and were seated in less than 10 minutes. This restaurant is a must-do! It's rated the number one theme park restaurant in the world! All our dishes would definitely support that statement! More detailed information coming soon.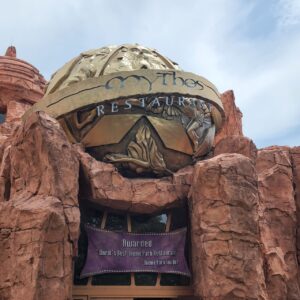 After Mythos, we did a few more attractions until around 2 or 3 pm. It was extremely hot, so we opted to head back to the hotel for a few hours to cool off in the pool.
The pool at the Hard Rock is amazing. It's a zero-entry pool with white sand surrounding the entire pool area. You can hear the music under the water and there are a few hot tubs, a water slide, and even sand volleyball courts in this area. Poolside service from a full bar and restaurant is also available.
Unfortunately, a typical afternoon storm rolled through, which cut our stay short in the pool. The amazing part of this was it cooled it off a lot and was overcast for the rest of the afternoon/evening.
We went back up to the hotel to switch from wet bathing suits to other suits, as our game plan for the rest of the evening was to ride water rides in the park.
All of the Water Rides at Islands of Adventure!!!
Once back at Islands of Adventure, we made our way over to the water rides. Prior to getting on the water rides, we were able to ride The Incredible Hulk Coaster and The Amazing Adventures of Spider-Man.
The first water ride we rode was Jurassic World. This large boat attraction is so fun! We got a little wet, cooled off a good bit, and headed to Popeye & Bluto's Bilge-Rat Barges and then Dudley Do-Right's Ripsaw Falls.
This is your disclosure now- on these next two attractions- you… will… get… wet. More information to come on this in the next detailed post!
We left the park, grabbed a late-night pizza at City Walk, and made it back into the hotel room.
The next morning, on Sunday, we had the same game plan – rope drop Islands of Adventure and eventually make our way back over to Universal Studios for anything we couldn't finish.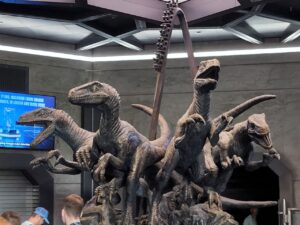 Rope Dropping Islands of Adventure for Velocicoaster
The reason for rope dropping again on Sunday was to ride the other attraction that we could not use the Express Pass for – Velocicoaster. Now, our 6-year-old cannot ride this attraction, so we opted for parent-swap. This ride is amazing in every way – extremely thrilling. More information to come on this soon!
We rode all the attractions we could, until leaving the park to make it to our 12:30 pm lunch at The Toothsome Chocolate Emporium & Savory Feast Kitchen (Think Willy Wonka!). Lunch and drinks were amazing! We ended up going back to our hotel for a little bit to rest our feet, and then back into Universal Studios around 5 pm to finish out the night with anything we couldn't get done the first day and watched two amazing shows – The Bourne Stuntaculor and a Horror Make-Up stage show.
Disney World Vacation
Exhausted from 3 full days of Universal, we made it to our hotel and crashed! We planned to take it a little easier on Monday morning getting up to make our way to our Disney hotel. By 10:30 am, we were on the road from Hard Rock to Disney Property. It was about a 20-minute drive to our hotel – Disney World's Dolphin Hotel. This is actually a Marriott property but is featured as a Disney Good Neighbor hotel. This hotel is considered a luxury hotel, allowing us to attend extended evening hours at both Epcot, and Magic Kingdom. Every Disney hotel guest is also allowed into the parks an extra 30 minutes ahead of day ticket guests. More information to come about our Hotel and Extra Hours!
Walt Disney World Dolphin Resort
After checking into our hotel, we had a room immediately available, which was nice! Bell services had our luggage stowed, so we figured we would handle that later. By the time we made it to the resort, after checking in and luggage drop off with Bell Services, we were now around 12pm and we had to make it into Epcot by 1 pm.
Afternoon and Evening at Epcot
We made the 15-minute walk to Epcot – lord was it hot- to make it into the park by International Gateway by 1:00 pm. The reason for this, was because we could try to get a Virtual Queue for Epcot's newest attraction – Guardian's of the Galaxy: Cosmic Rewind. We already had purchased a paid lighting lane at 7:00 am in the morning for later in the afternoon to ensure that we got to ride it, but we wanted to also try and get a 1 pm virtual queue to try and ride it a second time. These free virtual queues go within seconds, and you must be in the park to try and obtain one. As soon as we swiped in, we sat down on a bench and waited until 1 pm. As fast as my husband's fingers could move, he attempted to get one and he did! We secured a second ride around 6 pm, but our paid lighting lane was at 1:40 pm.
As soon as we got into Epcot we made our way to Soarin', via our Genie Plus lighting lane. After this ride, we took our first ride on Guardians of the Galaxy. This ride is amazing in every shape of the word- the technology, the coaster itself, the music – it's an experience that everyone needs to try! Stayed tuned for info on Lighting Lanes and more on these two attractions.
We rode rides and toured Epcot for as many hours as we could, until our second trip on Guardians. After we came out of this ride for a second time, we were met with an afternoon monsoon! We tried to put on our ponchos, but that was pretty much a lost cause. Shoes and legs and arms were soaked from head to toe. The poncho basically saved our backpack and camera, which was good.
We exited the park to go and change our shoes- knowing that thunderstorms in Florida last only a little while. After riding a short bus ride to the Dolphin Hotel, we ran up to our room to get clean shoes and socks. Walking around with wet feet is a big no-no!
We opted for a boat ride to Epcot for our second trip. There is boat transportation right outside of the hotel, and boats travel every 10-15 minutes. It was around 8:00 pm when we boarded the boat and had to be in Epcot soon, as we had an 8:30 am expiration for Remy's Ratatouille Adventure – Epcot's second newest attraction. More information to come regarding transportation!
We made it through security and raced to France to make it to our ride- we showed up 5 minutes late. Our biggest concern was whether they would let us ride or not, but unfortunately, we were met with "The ride is down" … we did all of that running and racing for… a broken-down attraction. My husband went and talked to guest services and was able to get an additional lighting lane for a different date. We weren't coming back to Epcot on a different date, otherwise, they would have given us a Remy lighting lane specifically. There was no guarantee that the ride would be back up, we just had to wait.
Extended Evening Hours at Epcot
We were there on Monday specifically because Epcot offered after hours from 9 pm – 11 pm for guests of Luxury Resorts. Since it was nearing 9 pm and the start of extended evening hours, we started walking towards the two attractions we wanted to be able to do – Test Track and Frozen. Unfortunately, because of how busy the park had been that day, even though it was after 9 pm, the line for Test Track was 40 minutes and the line for Frozen was like 75 minutes. We opted for Test Track, since we had not ridden it yet that day, and waited about 40 minutes for the ride.
This put us with an hour to spare for extra magic hours, and as soon as we got off this ride, we got the notification on our Disney Experience App that Remy's Ratatouille had re-opened. Knowing we had ridden Frozen on previous trips to Epcot and didn't know if we'd ride Remy that night, we opted to skip Frozen and make the long trek over to Remy's on the other side of the park.
We ended up waiting around 25 minutes in line, by the time we walked all the way over to this ride. The ride was super cute and fun. We got off the ride with about 10 minutes to spare in the after-hours time frame. All other attractions were at least ½ a mile away, and we were not about to race anywhere. We were done for the evening! We opted to wait for the boat to take us back to the Dolphin hotel, where everyone took showers and crashed.
Finally – A Day of Rest – Sort of…
Tuesday was a rest day for us! We needed it. We had just done 4 days in a row of theme parks. Our feet were killing us! More tips coming in a separate post about foot care and rest!
Tuesday, we slept in until about 10:20 am. Not intentionally, we just slept through our alarms. Thank goodness we didn't have any parks booked this day. We did have lunch booked, so we quickly got ready and headed to Disney Springs.
The Afternoon at Disney Springs then Dinner at Sanaa
We ate at Chef Art Smith's Homecomin' This restaurant is all about southern cooking, sweet tea, and moonshine! It was delicious.
We shopped around Disney Springs for a few hours in the afternoon and eventually caught a bus to Disney's Animal Kingdom Lodge. We hung out there for a little bit, saw some animals on the property, and eventually ventured down to my favorite Disney Restaurant – Sanaa, which is an African-inspired restaurant for a late dinner. More detailed post coming soon about this amazing place and their famous bread service. We caught a Lyft back to the hotel to save time and headed to sleep.
Magic Kingdom Day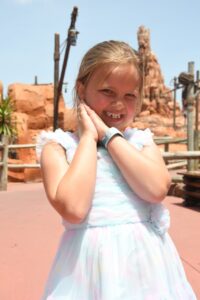 Wednesday was Magic Kingdom Day. This is by far, my favorite park in all of Disney World. The magic and nostalgia that this park holds are unmatched by any other park. My older daughter preferred the thrill rides of Universal or even other Disney parks, but this park is perfect for families as well as my 6-year-old.
We were able to make it to Magic Kingdom in the early morning hours and entered the park ahead of regular day ticket guests. Our first attraction to rope drop, since the lighting lanes were sold out, was Space Mountain. Even with early entry, it was posted a 40-minute wait. We pretty much waited every bit of that time frame but had tons of fun.
This park has so many attractions, that you can walk a few feet and be met with another attraction. Genie Plus worked great in this park when you could use it, as after booking something at 7:00 am, we had to wait 2 hours after the park opened\ to book our next one. More to explain about this in a future post.
Many rides later, lunch was scheduled at 2 pm at the Plaza Restaurant – located at the end of Main Street. With our bellies full, we grabbed some photos near the Purple Wall, an after-lunch snack, and then headed on the Ferry to rest at the Polynesian hotel – located across the lagoon from Magic Kingdom. More information to come about transportation, and why we just didn't go back to our own hotel.
Taking a Break at the Polynesian and Drinks at Trader Sam's
At the Polynesian, we hung out for several hours, taking pictures and resting our feet, we ended up at Trader Sam's Grog Grotto and Tiki Bar to have a fun drink and light snack. After this, and an afternoon thunderstorm, it was back on the ferry to head back to Magic Kingdom for more rides. We had a lighting lane for Splash Mountain and extended evening hours ahead of us.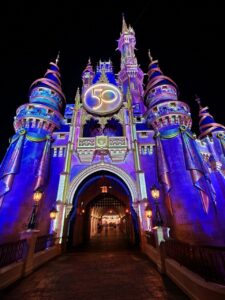 Extended Evening Hours at Magic Kingdom
Extended Evening Hours at Magic Kingdom were from 11:00 pm to 1:00 am. You heard that right! Only luxury hotel guests were able to stay, and it was so worth it. We were all hurting, and my 6-year-old was so tired, but we powered through to ride all of the attractions that we could in those extra two hours.
Walking out of Magic Kingdom around 1:15 am, we made it on a Ferry over to the TTC, and out to our truck by 1:30 am.
We headed back to the hotel, took quick showers, and crashed!
Another Rest Day – Laundry Day – And Some Great Food and Fun
Thursday was another off day. We took our time getting ready in the morning and did 4 loads of laundry, using the hotel's commercial washers and dryers. We had been traveling for nearly 2 weeks and we were running out of clothes.
Steakhouse 71 – Best Meal of the Vacation!
By mid-afternoon, we made it to our lunch at Steakhouse 71 at Disney's Contemporary Hotel. Amazing food and amazing service. We drove around the Disney area, before heading to our hotel to hang out and eventually made it down to our pool. The Dolphin pool was also very nice. It was a total of three different pools, complete with a water slide.
We had a very late dinner at Kimono's Lounge, located at our sister hotel – The Swan. It was great food and drinks and on Thursday night they had karaoke. The girls were even able to participate up until 11 pm.
Hollywood Studios Day
The next day was Friday – our last park day and Hollywood Studios. We made it to the park at 8:04 am and were able to walk right into early park entry. Our plan was to ride The Twilight Zone Tower of Tower or the Rock 'n' Roller Coaster Starring Aerosmith, but we quickly found out that both were experiencing technical difficulties that morning. We opted for Mickey and Minnie's Runaway Railway as our first attraction. Very cute and fun trackless ride vehicle. We waited about 25 minutes or so, but it was very cute!
Our next major attraction was Rock N Rollercoaster since it came back up, and we were able to get all 4 of us on this ride. My 6-year-old was scared at first, but by the time it finished she wanted to ride it again.
Lunch at The Hollywood Brown Derby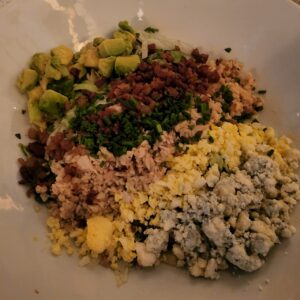 Several rides and experiences later, we were able to dine at the Famous Hollywood Brown Derby restaurant and had amazing food and drinks. After lunch, we took an afternoon break to get out of the heat and chilled at our hotel for a bit. After resting, we made it back into Hollywood studios by boat around the 4:15-4:20 time frame.
We rode more rides, including the amazing Star Wars Attraction– Rise of the Resistance, and were able to snag dinner at Docking Bay 7 in Galaxy's Edge, and then managed to run over to Tower of Terror with 5 minutes left in the evening. It took us about 45 minutes to make it to the Tower of Terror, but it was posted a 105-minute wait when we got in line at park close. The ride was down a lot of the morning, and by the time it was opened, we were clear across the park. It stayed at 1.5 hours to 2 hours all day, because they were doing refurbishments on one of the elevators, so they were only running one side.
The attraction was fantastic and a great way to end the night. We walked out of the park about an hour after it closed, got in our truck, and made it back to our hotel to crash.
The Beginning of the End 🙁
The next morning, we were going home – womp womp. We did the same drive the next day – took our time getting ready- on the road by 8:30 am, and headed to our mid-way destination- Gulfport Mississippi, about an hour past Spanish Fort/Daphne, for day one of our trip back home.
Springhill Suites by Marriott Gulfport Mississippi
The hotel we stayed at this time was the SpringHill Suites by Marriott. Loved this hotel! More to say about this one in a detailed post.
The second leg of our trip was Sunday morning, where we drove from Gulfport Mississippi back to our home in Texas, making the same type of stops on the way home – a coffee and beignet snack at Coffee Call in Baton Rouge, Louisiana, and some great state rest stops on the way home.
Made it home to Texas about 7:30 pm and were exhausted. Got unpacked, loved on our dogs, and even managed to start laundry.
Final Thoughts on our Two Week Florida Vacation
This trip was amazing in every way. While Florida was hot and our trip was exhausting, this trip had so many firsts for us and our kids. While we've traveled to Disney before, we had never done Universal with our kids or stayed at either of those nicer resorts. We took advantage of extended evening hours and ate at some great restaurants, magic wands, karaoke, beaches, and so much more.
Be on the lookout over the next several days to weeks for detailed posts about each and every one of our hotels, theme park days, and restaurants along the way. We will also post about planning and prepping for our trip, as well as good tips for rope dropping rides and/or even using hotel laundry services.
We cannot wait to share all this excitement with you- stay tuned for more fun details about our journey.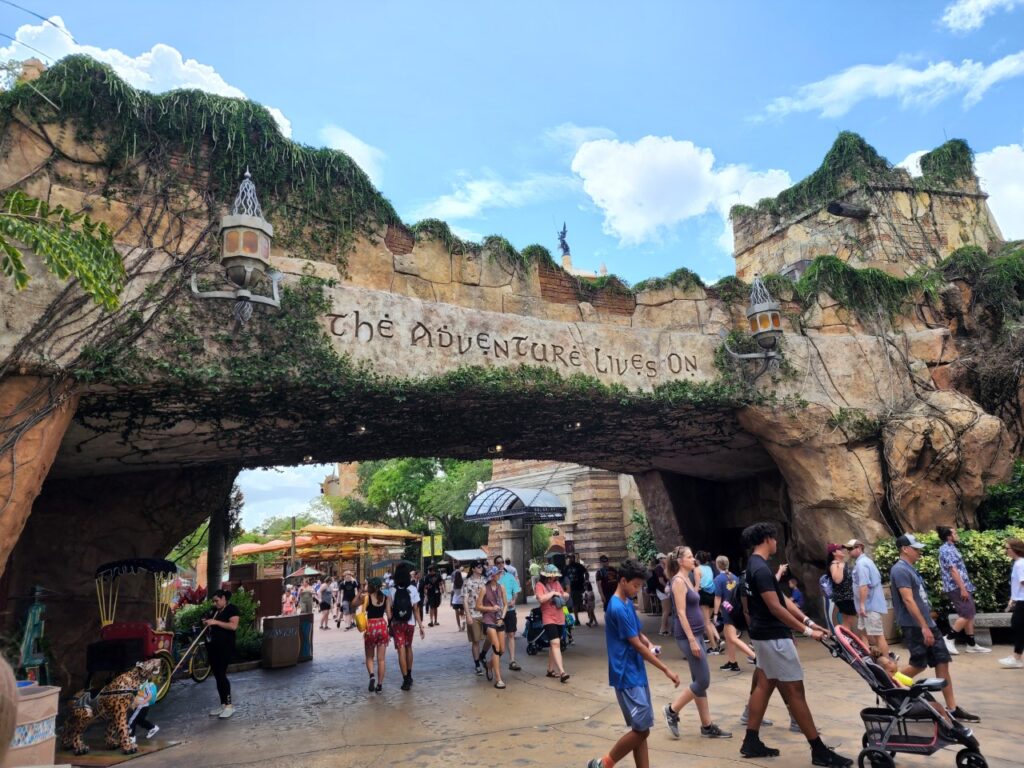 Did you know that we have an amazing community of Disney World Fanatics hanging out on our Facebook Page? Also, if you want to join us and thousands of other Disney World Enthusiasts to get all of your Disney Vacation questions answered, check out our Facebook Group Disney World Questions and Answers.