It's finally here! Epcot has added yet another attraction during this 50th Anniversary Celebration. With Remy's Ratatouille opening in October 2021 to kick off the 50th Anniversary, Epcot is throwing out the anticipation with another release date. Guardians of the Galaxy Cosmic Rewind, located in the Discovery section of Epcot, is set to open on May 27th.  Keep in mind that this is right before Memorial Day when the park will be busy regardless of a new attraction.
Everything You Need to Know About Guardians of the Galaxy Cosmic Rewind
The coaster is listed on Disney's website as a family coaster and has highlighted "kids, tweens, teens, and adults" for being able to ride. There isn't a height requirement listed yet (updated below), so stay tuned for that information. Videos and sneak peek to show that the coaster travels along the track with show scenes in the background, and the coaster car rotates along the track at various intervals.
It's still yet to be determined if this attraction will be listed as a virtual queue option or the normal line queue. One thing should be for certain, once this attraction makes it onto the Genie Plus lightning lane options, it will be listed as an attraction that will cost extra per person if you use this option.
Check out the link to Guardians of the Galaxy Cosmic Rewind's official page to learn more!
Guardians of the Galaxy Cosmic Rewind Height Requirements
Disney has recently started announcing upcoming preview events for pass holders, D23 Gold Members, and more, and with that, they have confirmed the height requirements for Epcot's Guardians of the Galaxy: Cosmic Rewind. The Guardians of the Galaxy Cosmic Rewind height requirement is 42″ (107 cm).  While this ride won't be "for everyone" it will allow guests for guests over three and a half feet tall which covers a lot of the little ones!
Disney Debuts Guardians of the Galaxy Cosmic Rewind Ride Trailer
Epcot has always been thought of as a park with limited attractions and is sometimes listed as the park that people "skip" if they had to choose one. With Test Track, Soarin' Around the World, Frozen Ever After, Remy's Ratatouille Adventure, and now Guardians of the Galaxy: Cosmic Rewind, I don't think too many people will be skipping Epcot in the future.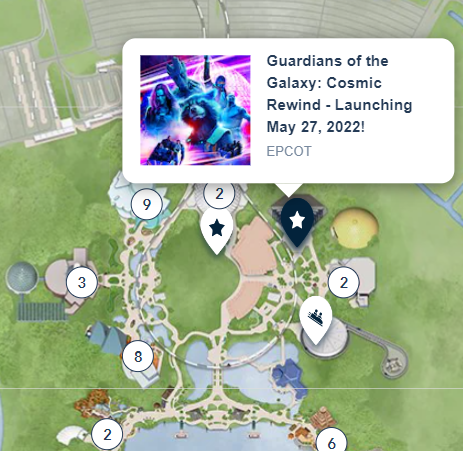 Now we're just waiting for Magic Kingdom to finish their construction of Tron. What an exciting time to be visiting Walt Disney World!
Oh yeah, we have an amazing community of Disney World Fanatics hanging out on our Facebook Page. If you want to join us and thousands of other Disney World Enthusiasts to get all of your Disney Vacation questions answered, check out our Facebook Group – Disney World Questions and Answers.