As you may have heard or seen last week, the new Disney MagicBand+ accidentally made it onto the shelves in some Disney retail locations. As soon as cast members realized that they had jumped the gun on getting them on the shelves, they pulled them from the shelves and offered refunds to anyone who was interested.
As we have seen since the miscommunication, many guests decided to keep them and have been releasing photos giving everyone an opportunity to see what we can expect once they roll out for real. This new rechargeable MagicBand+ has a clean and sleek look that also lights up and vibrates as you complete quests or watch firework shows in certain Disney World parks.
How MagicBand+ Differs from the Original MagicBand
The original MagicBands were initially introduced at Walt Disney World in 2013 and have been a very important part of the theme park experience ever since. This roll-out may come as a surprise to many as it has seemed over the last year or so that Disney may have been transitioning away from MagicBands as they no longer were included in Disney Hotel stays. Disney has also reintroduced many features utilizing smartphones and Apple Watches leading many to believe that MagicBands were a thing of the past.
With the release of the MagicBand+, it seems Walt Disney World is ushering into a new era of the MagicBands that will do everything that we remember as well as so much more!
Experience the Disney Fab 50 Quest
From what we are hearing, Walt Disney World will be releasing MagicBand+ sometime during summer 2022 which is all part of the 50th Anniversary Celebration. The new MagicBand+ is said to allow guests the ability to interact with all of the 50th Anniversary statues in the "Disney Fab 50 Quest." With the MagicBand+ guests will have the ability to walk up to any of the statues and wave at the characters which will, in turn, talk to you or tell you something special.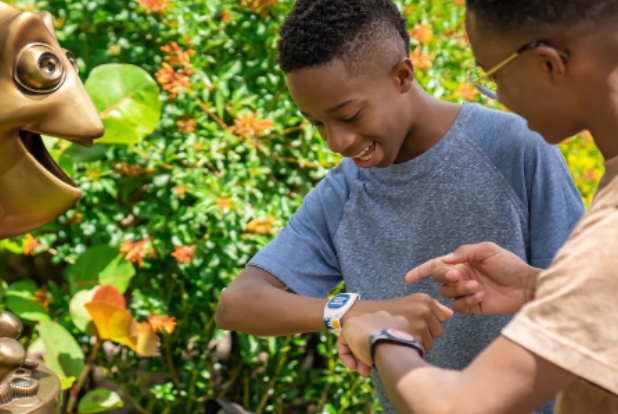 Batuu Bounty Hunters Guild
In addition to the Fab 50 Quest, guests wearing the MagicBand+ will also have the opportunity to join the Batuu Bounty Hunters Guild while visiting Galaxy's Edge in Disney World's Hollywood Studios. According to Disney Parks Blog:
You'll use your band to find numerous virtual bounties hidden throughout Black Spire Outpost. MagicBand+ will be your guide, vibrating and lighting up to show if you're on the right path. You can then use the augmented reality thermal viewer in the Play Disney Parks app – which reveals what's behind locked doors in Black Spire Outpost – to uncover your virtual bounty. Once your mission is complete, the local guild master will reward you with galactic credits.
Experience Nighttime Spectaculars in a New Way
Finally, your new MagicBand+ will allow you the ability to experience Disney World's Nighttime Spectaculars in an all-new way. While watching Disney Enchantment at Magic Kingdom and Harmonious at EPCOT, your MagicBand+ will light up and vibrate in sync with the fireworks shows to give you an even more Magical Experience!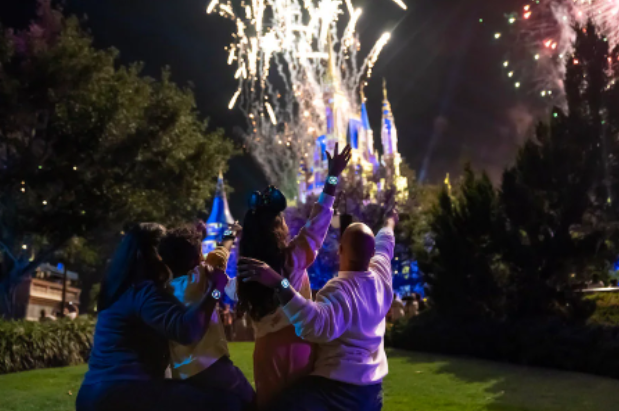 All of these experiences will be offered with MagicBand+ which will go on sale this Summer. Walt Disney World Annual Passholders and Disney Resort Hotel guests will be able to purchase the new wearable at a reduced, pre-arrival rate. To enjoy additional features such as park entry, you can still use your existing MagicBands or Disney MagicMobile. Additionally, guests will still have the ability to purchase MagicBand where available.
One thing that is very different about MagicBand+ as opposed to its predecessor is that later this year,  it will be available for purchase at the Disneyland Resort as well. While some of the features may vary between the two parks, Disney promises to share more in the near future.
In Conclusion
What are your thoughts on the new MagicBand+? Are you excited to see how it can enhance your Disney Vacation experience? Are you one of the lucky ones that already scooped one up when they went on sale for a few hours last week? Let us know in the comments below!
Did you know that we have an amazing community of Disney World Fanatics hanging out on our Facebook Page? Also, if you want to join us and thousands of other Disney World Enthusiasts to get all of your Disney Vacation questions answered, check out our Facebook Group Disney World Questions and Answers.