On our last Disney Vacation, we had the pleasure of experiencing Mobile Ordering at Disney World.  We usually do the Deluxe Dining Package, but on our last trip, we decided to go with the Quick Service plan, and we took advantage of it!  We did the mobile ordering in every park except for Epcot as it is not as integrated into that park just yet.  We also really like D-Luxe Burger in Disney Springs, so we were excited to see that they were the only location in Disney Springs that offered Mobile Ordering. While it is a great program to take advantage of at Disney World, it can be a little confusing.  It is not that hard to place an order, but knowing what to do, when to do it, and where to go can be a little confusing the first few times.  Here is a step-by-step guide to using the My Disney Experience App for Mobile Ordering.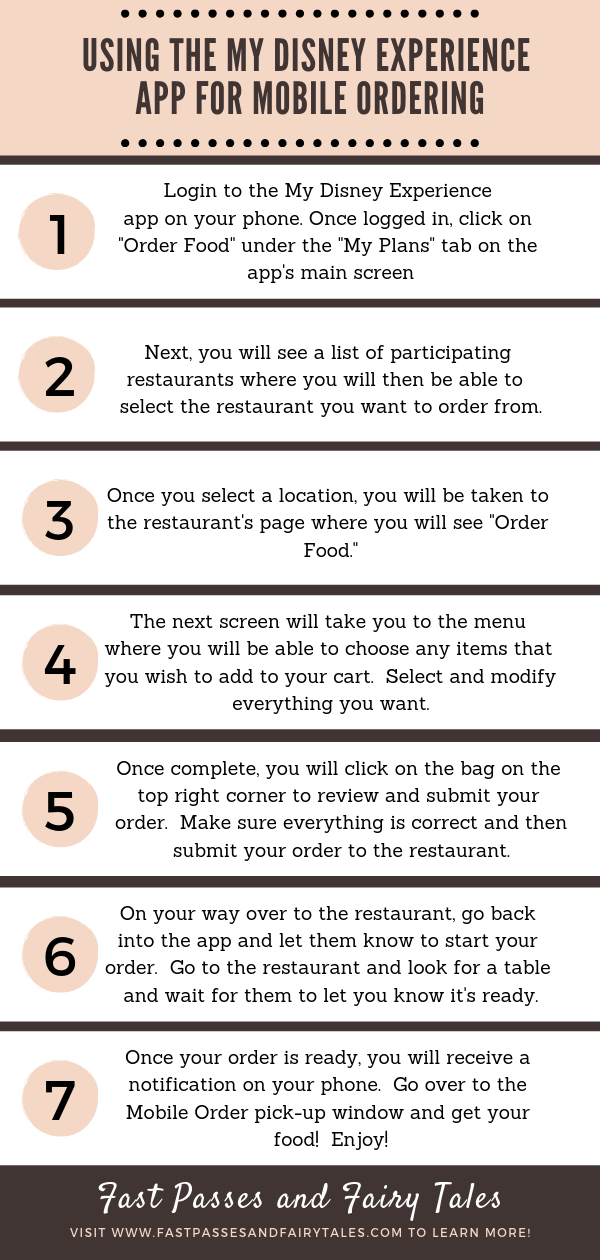 Step by Step Instructions for Mobile Ordering at Disney World
Log in to the My Disney Experience app on your phone. Once logged in, click on "Order Food" under the "My Plans" tab on the app's main screen.
Next, you will see a list of participating restaurants where you will then be able to select the restaurant you want to order from.
Once you select a location, you will be taken to the restaurant's page where you will see "Order Food."
The next screen will take you to the menu where you will be able to choose any items that you wish to add to your cart.  Select and modify everything you want.
Once complete, you will click on the bag in the top right corner to review and submit your order.  Make sure everything is correct and then submit your order to the restaurant.
On your way over to the restaurant, go back into the app and let them know to start your order.  Head into the restaurant and look for a table and wait for them to let you know it's ready.
Once your order is ready, you will receive a notification on your phone.  Go over to the Mobile Order pick-up window and get your food. 
Don't be that guy…
Please do not send your order and then go and stand in the pick-up window.  There are so many people that think that since they placed the order that it will be ready right away, so there can be large crowds packed around the pick-up window.  Don't be that guy!  I promise you, as soon as your food is in the window, you will get an alert on your phone letting you know that it is ready!
Restaurants that Participate in Mobile Ordering by Park
Here is a list of each of the restaurants that are currently participating in mobile ordering at Disney World.  Note, that this list will potentially grow over time, and we will do our best to keep this information up to date!
Mobile Ordering Options at Disney's Magic Kingdom
Mobile Ordering Restaurant Options at Disney's Epcot
Mobile Ordering Restaurant Options at Disney's Hollywood Studios
Mobile Ordering Restaurant Options at Disney's Animal Kingdom
Mobile Ordering Restaurant Options at Disney Springs
Well, I think that covers everything you need to know about using your My Disney Experience App for Mobile Ordering.  Have you got to try Mobile Ordering yet?  How was your experience?  Let us know in the comments below.  Also, please be sure and subscribe to our feed so that you will be notified anytime we put out new information.  If you have any Disney Fanatic friends, please feel free to share this with them as well!  Also, be sure to check out the Disney Dining Plans for 2019!
Oh yeah, we have an amazing community of Disney World Fanatics hanging out on our Facebook Page. If you want to join us and thousands of other Disney World Enthusiasts to get all of your Disney Vacation questions answered, check out our Facebook Group – Disney World Questions and Answers.