Where Should I Stay at Disney World?
There are a lot of factors that play into this decision.
What is your budget?
What is your length of vacation?
How much time do you plan on spending at the resort?
Are you looking for close park access?
Do you have certain Character meals or dining experiences that are important to you?
Is specific transportation important?
There are so many different factors that could determine where and when you decide to stay at a Walt Disney World Resort.
Availability? Is the Resort even available?
Special Offers? Does the report offer the Free Dining Special you are trying to book? Or other offers?
Events and Groups? Is the Disney Marathon going on? Did the Pro Bowl come to town this year?
With some of these questions answered, it might narrow down your choice of which resort is right for you, but the number one determining factor for choosing a resort is BUDGET!
Here is a listing of all Resorts from lowest to the highest price, which is what Disney refers to as Value to Deluxe Resort pricing.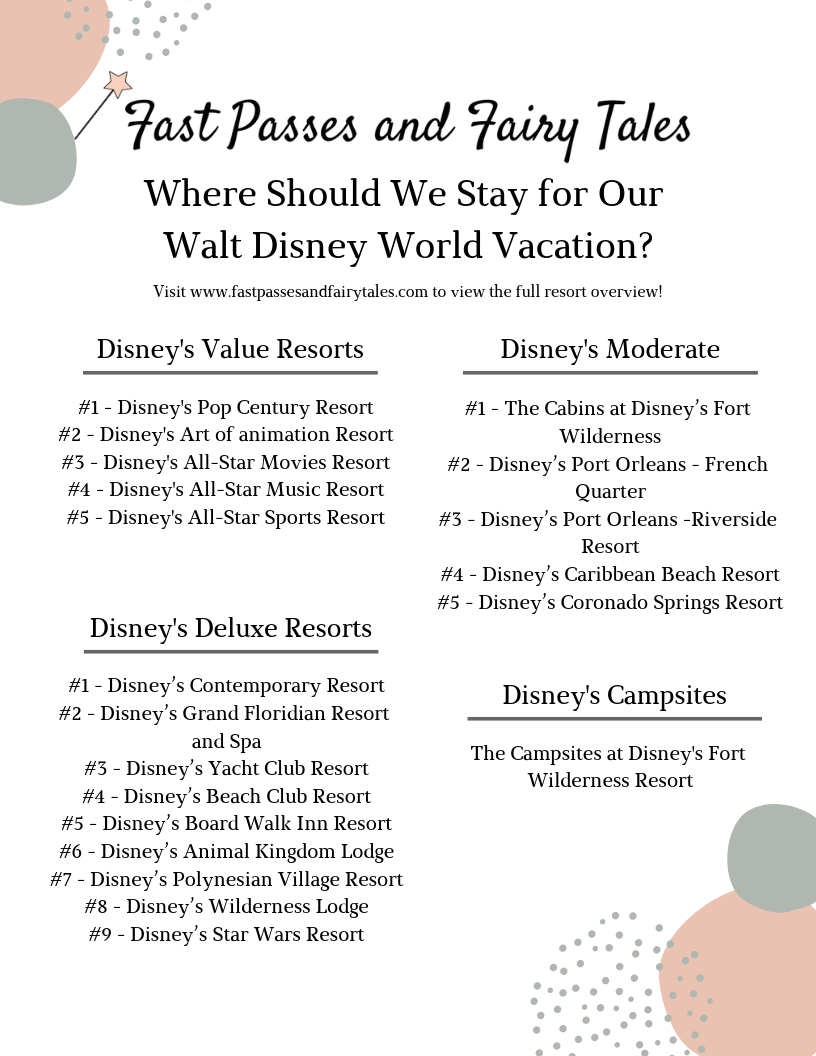 Campsites– From $55.00 per night (Current as low as price – listed for the season * Subject to change)
These are considered the Campsites at Disney's Fort Wilderness Resort.  If you are driving your own RV, or pull-behind trailer with your own vehicle, this is a unique spot to stay at Disney but still feel like you are out camping in the woods. An example of this site would include a Tent to stay in, an RV parking space, hookups for sewer disposable, etc.
Transportation to the parks from this resort would be your own car, or Disney offers bus or boat access at different central meeting points on the Resort property.
Value – from $99.00 per night (Current as low as the price listed for the season * Subject to change)
Disney's All-Star Sports Resort
Disney's All-Star Movies Resort
Disney's All-Star Music Resort
Disney's Pop Century Resort
Disney's Art of Animation Resort
All of these resorts have larger-than-life theming to them. What do I mean by that? Well just consider that All-Star Movies has a Dalmatian (from Disney's 101 Dalmatians) that is the size of a three-story hotel building. Every single one of these hotels has a large Dining Hall that is great for using with your Quick Service Dining Plans, large outdoor games, pools, arcades, laundry services, and all of the basics of your typical regular hotel room amenities.
The Art of Animation offers special Family Suites that are very spacious rooms that offer small family living rooms in addition to the bedroom and can sleep up to six guests. There are suites inspired by movies such as Lion King, Cars, and Finding Nemo.
Pop Century and All-Star Movies have just gone and are still undergoing refurbishments to completely revamp their rooms.
We've stayed at Pop Century many times and we loved the new renovations. Everything is clean and bright and light. My favorite aspect is that they replaced the hotel carpet with faux wood floors which make it so much cleaner and fewer allergens.
Transportation from these resorts to the parks would be your own car, and Disney provides bus transportation. Beginning sometime in 2019, Disney will offer the new Sky Liner transportation from Art of Animation and Pop Century.
Moderate Resorts – Prices from $185/night (Current as low as the price for the Season * Subject to change)
The Cabins at Disney's Fort Wilderness Resort
Disney's Port Orleans – French Quarter Resort
Disney's Port Orleans -Riverside Resort
Disney's Caribbean Beach Resort
Disney's Coronado Springs Resort
All of the Resorts here offer a nicer Resort experience, which is nice if you plan to stay at the Resort for a rest day from the parks. A lot of these offer a slightly larger room than what you get at the Value resorts, and they are all themed as they sound. For example, if you stay at a
Cabin at Fort Wilderness, you really feel like you drove off in the forest and rented a cabin nestled among the pine trees and chirping birds. French Quarter offers rooms, where the outside feels like you are walking down a street in New Orleans.
Each of these resorts also has a quick service as well as a Table Service Restaurant (* with exception of the French Quarter) which is convenient if you did not want to dine in the park for one of your table service experiences.
Also, all of these resorts offer rooms that have the ability to sleep a 5th bed option, such as a pull-out couch, trundle bed, etc.
Transportation from the parks from these resorts can be your car, or Disney provides Bus transportation, Ferry, and the Skyliner will stop at the Caribbean Beach in 2019.
Deluxe Resorts – from $345/night (Current as low as the rate for the season * subject to change)
Disney's Contemporary Resort
Disney's Grand Floridian Resort and Spa
Disney's Yacht Club Resort
Disney's Beach Club Resort
Disney's BoardWalk Inn Resort
Disney's Animal Kingdom Lodge
Disney's Polynesian Village Resort
Disney's Wilderness Lodge
Disney's Star Wars-themed hotel * Construction has not started on this as of 2019
These Resorts offer the most luxurious stay of all, but for a price. These resorts, if staying for five nights will run you $2500.00 for just the hotel. Once adding park tickets and a dining plan, you are over $10,000.00 for a week's vacation. If you can afford this, then go for it – the Resorts are amazing!
These Resorts offer some of the Best Restaurants and Character Meals on Disney's property, three of which have the monorail stop directly at their resorts for easy access to Magic Kingdom (Contemporary, Polynesian, and Grand Floridian). The Animal Kingdom Lodge allows you the ability to watch animals graze the savannah from outside your balcony window.
In Conclusion
Wherever you choose to stay, staying on Disney property offers some of the best experiences and memories for your Walt Disney World Vacation. By staying at one of the resorts above, you will get 60-day fast pass advance booking access, exclusive Disney transportation by bus, ferry, boat, monorail, or Skyliner, and be able to experience Extra Magic Hours when available on select Disney nights. We have stayed at the Disney property every time that we've gone, and it makes our visit that much more magical.
If money was no object, which Disney Resort would you stay in?  How many of these resorts can you check off of your list?  Let us know what you think in the comments below.  Also, please like and share with all of your Disney Fanatic Friends!
Oh yeah, we have an amazing community of Disney World Fanatics hanging out on our Facebook Page. If you want to join us and thousands of other Disney World Enthusiasts to get all of your Disney Vacation questions answered, check out our Facebook Group – Disney World Questions and Answers.