If you are heading out to the Magic Kingdom, there is a good chance that you are interested in learning more about the table-service dining options.  Whether you are wanting to dine with a Disney Princess, or you are looking for a buffet with Pooh and all of his friends, there are many options to please your palate.  We have really enjoyed all of the dining options at the Magic Kingdom.  I have heard rumblings on a few restaurants, but I guess we have been lucky as we have always had great experiences.  Here are our thoughts on Magic Kingdom table service restaurants ranked best to worst.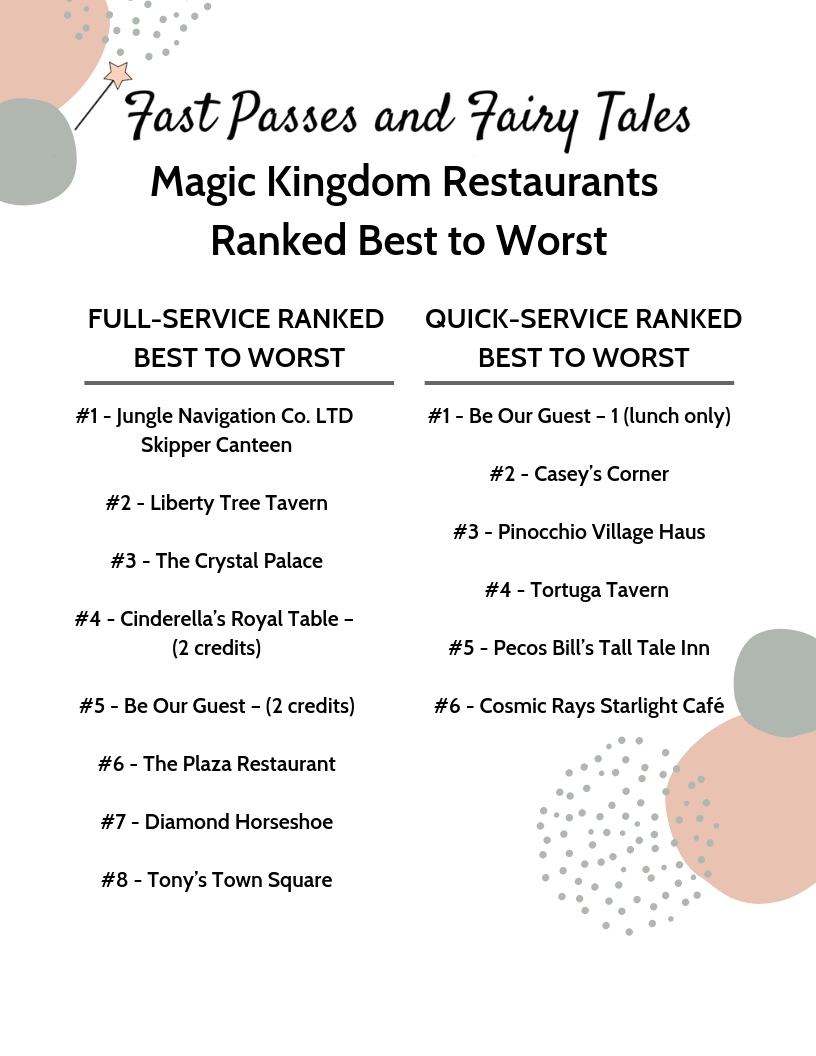 #1 – Jungle Navigation Co. LTD Skipper Canteen – View Menu
This is such a hidden gem inside Adventureland next to the Jungle Cruise area. Just like the Jungle Cruise gives you a little show by the cast members driving the boats, the Skipper Canteen restaurant's servers give you a little show with your dinner as well. They tell cute little jokes and have a good time with everyone at your table. This restaurant serves a wide array of dishes such as steak, chicken, pork, fish, lamb, and Thai noodles. They have fresh vegetables and wonderful jasmine rice. My steak was amazing! (Lunch menu and dinner menu are nearly the same). The kid's menu offers a build your own special where the children get to pick from several different options on the menu. They have great specialty drinks as well, which are included if you are using a Disney Dining Plan. You can also get an alcoholic beverage which is included in the package as well.
#2 – Liberty Tree Tavern – View Menu
Straight out of the streets of Americana, this quaint little restaurant is in Liberty Square near the Hall of Presidents. When you walk in, you feel like you are visiting someone's house, with family-style large round tables and chairs. There are six different themed rooms (think of it like different dining rooms) in the restaurant to sit in. There is a little bit of history all around the restaurant for everyone to learn a little bit about the history of America. All food is served family-style on large platters. Think Thanksgiving dinner with turkey and all the trimmings. They keep bringing it out and refilling your plate as well. The dessert here is awesome as well, and we always recommend the Ooey Gooey Toffee cake.
#3 – The Crystal Palace – View Menu
Located at the end of Main Street on the left-hand corner before you walk into Adventure Land. While this is a buffet, it is Character Dining with Winnie the Pooh and Friends. While the food isn't the best in the park, like most buffets, it's decent and the kids loved all their choices. This restaurant makes the list at number three because of the meet and greets with the characters. Every single one of them came to the table and sat with my daughter for an extended period. The first time we went to Disney World, this was the very first restaurant that we did, and it set the tone for the rest of the trip.
#4 – Cinderella's Royal Table – (2 credits) – View Menu
I think everyone knows that this is located inside Cinderella Castle. It is absolutely magical. Again, this is a restaurant that is all about the experience, and not necessarily the food. The food is just meh – so heads up on this and it also takes 2 Table Service credits per person for this. However, if you can go at least once, I highly recommend this. My daughter started out downstairs meeting Cinderella in person. Once we were ready to go up to our table, they escorted us up an elevator where we embarked into the dining room and to our table. Every single Disney Princess was in attendance and made it around to every table – and again, spent plenty of time with my daughter. We had a late-night reservation around 8:30 pm, so we got to see the 9:00 pm fireworks from inside the castle. How can you not love that? Talk about magical. I will never forget this experience. As far as the food, they offer things such as pork shank, beef tenderloin, fish, chicken, and couscous. If you can get a reservation and your kids are into Disney Princesses, I would highly recommend this experience.
#5 – Be Our Guest – (2 credits) – View Menu
This is another popular restaurant and is very hard to get a reservation. Lunch is considered quick service, and dinner is considered Table Service. It does take 2 table service credits in order to book here. Again, this restaurant is all about the experience and not necessarily the food. The restaurant has three unique themed dining rooms that bring their own sense of Disney Magic. The main dining hall is full of beautiful architecture, crown molding, and chandeliers, and the back wall is a window looking outside where it appears to be snowing. The Beast's West Wing is a very dark and scary dining room, but tons of fun. We've eaten in here before for the experience, but heads up, it is very dark and hard to see your food. The final dining room is one that is equally as beautiful and features Beauty and Beast dancing in the middle of the room. Beast makes an appearance during dinner service, but he sort of just walks through the hall, not really coming to tables, etc. The fixed menu features food such as roasted tenderloin, Filet Mignon, chicken, tortellini, seafood, and lamb. If I was going to use two dining credits on BOG or Cinderella's Royal Table, I would choose CRT because of a greater experience. (Highly recommend this place for QS Lunch though)
#6 – The Plaza Restaurant – View Menu
Located right on Main Street in the busy hustle and bustle that is all things Main Street. The restaurant is a cute little restaurant featuring a limited number of tables. They are known for great milkshakes, so feel free to indulge. The food choices are great feel-good food choices like baked brisket mac and cheese, a juicy Angus Burger, home-style meatloaf, and smoked pork chops. You have a great view of all things Main Street when dining here.
#7 – Diamond Horseshoe – View Menu
Another cute little restaurant located in Liberty Square features all things Barbeque. They have brisket, pulled pork, mac and cheese, and smoked stuff peppers. Since we're from Texas, of course, this is an all-time favorite.
#8 – Tony's Town Square – View Menu
Located as soon as you walk through the front gates of the Magic Kingdom on the right-hand side before you start walking down Main Street. It is themed after Disney's Lady and the Tramp and has a cute little charm about it. They even have a patio where you can enjoy outdoor dining and catch a parade if you make the right timed reservation. The food is typical Italian food such as spaghetti, fettuccini, parmigiana, pizza, etc. Other critics have given this restaurant a thumb sideways or a "meh" review since the food is just not that amazing. However, I'm a cheese and pasta girl, so I enjoyed it. I never get meat on my pasta, such as chicken or shrimp, so not sure how those meals compare to other Italian Restaurants on Disney property like Mama Melrose at HS.
In Conclusion
Well, that covers all the table-service options that Disney's Magic Kingdom is currently offering. What are your thoughts?  What does your list look like?  Let me know in the comments below.  We hope that you enjoyed our list of the Magic Kingdom Table-Service Restaurants Ranked Best to Worst.  Please do us a favor and like our post and share it with all of your Disney Fanatic friends! 
Oh yeah, we have an amazing community of Disney World Fanatics hanging out on our Facebook Page. If you want to join us and thousands of other Disney World Enthusiasts to get all of your Disney Vacation questions answered, check out our Facebook Group – Disney World Questions and Answers.